The written history of Bath starts with the arrival of the Romans nearly 2000 years ago but stone tools, possibly votive offerings, dating from around 5,500 BC have been found near the hot springs. The countryside around Bath also has many signs of pre-historic activity, and nearby sites including Avebury, Stonehenge and Cheddar hint at the power and richness of pre-Roman society in this area.
It was during the Roman occupation of Britain during the 1st Century AD that Bath first became both a recognised health spa, based upon utilising the natural hot spring waters, and a centre of worship (albeit pagan for the first few hundred years).
During the 8th Century, the first of three Christian churches on the site of today's Abbey Church was constructed. Then, in 1088, King William II appointed John of Tours as Bishop of Somerset, who decided to base his See in Bath. This led not only to the construction of a mighty cathedral on the site of the original Saxon church but also the building of a new spa facility, which provided healing waters right through to the present day.
In 1499, King Henry VII appointed Oliver King as Bishop of Bath and Wells, who was responsible for the original construction of todays smaller but beautiful Abbey Church on the same site. Although King Henry VIII's Dissolution of the Monasteries resulted in the end of the role of Benedictine monks in Bath – stretching over the previous five hundred years – and the stripping of the Abbey Church in 1539, the church was fortunately fully restored at the initiative of Queen Elizabeth I, following a visit to Bath in 1574.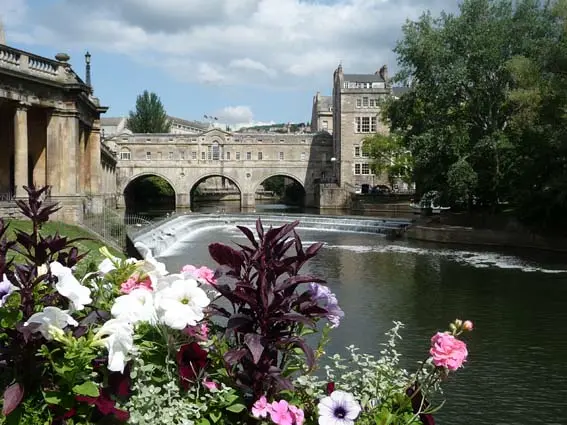 The ongoing influence of the spa and its healing waters resulted, during the first half of the 18th Century, in the city of Bath becoming the centre of English society and fashion, and then, by the end of the century, a renowned centre for shopping. A number of personalities were associated with the rise of Bath during the period, among them the architect John Wood, renowned for initiating the construction of the beautiful and elegant Georgian city, and Richard Nash, who was equally significant in transforming the social life of the time in his capacity as Master of Ceremonies, notably ensuring that society adhered to the same conventions of conversation, dress and behaviour. At the same time, the spa facilities remained second to none in the country, notably for treatment of the sick, visited by all levels of society including royalty. Social behaviour during the period was also increasingly expressed through consumption – with Bath gradually being portrayed as a consumer's paradise.
Modern Bath continues to benefit from the inheritance from the 18th Century with its magnificent Georgian architecture, the ancient Roman Baths and the modern spa facilities and the range of wonderful shops together with a wide choice of fine hotels and restaurants. The perfect place for an enjoyable visit!
Useful links:
Bath's Official Tourism Site | Visit Bath